Looking for a New Job? 10 Things You Should Know Before Updating Your CV/Resume
June 10, 2021
Candidate Insights
Article Written By: Chai Ling, Principal Consultant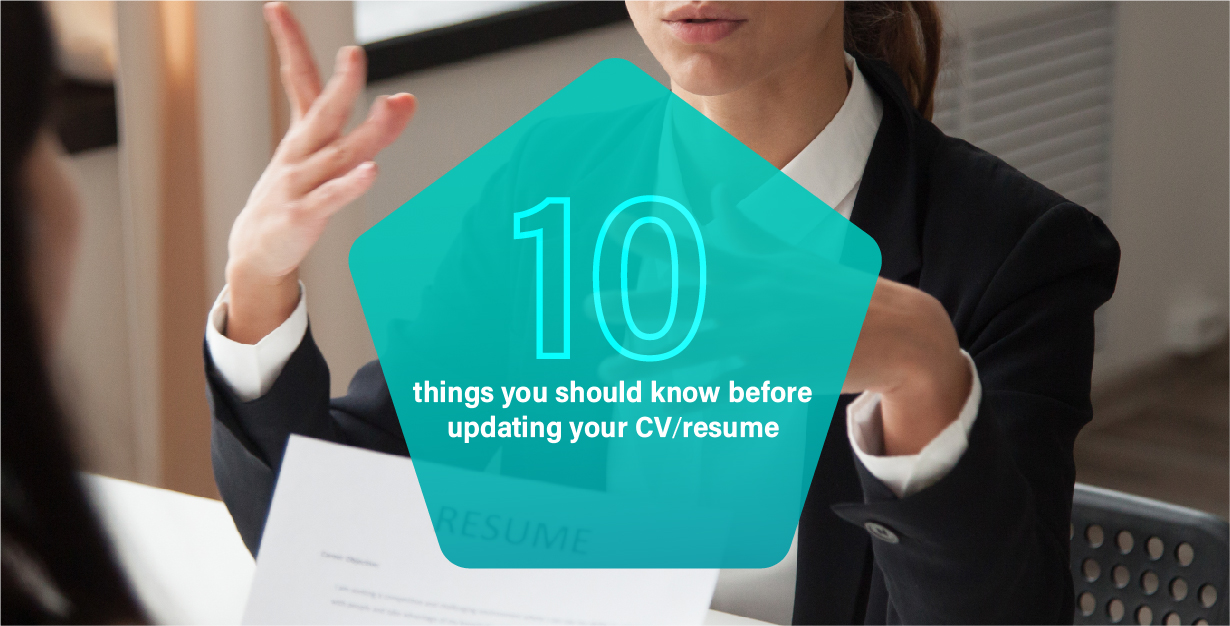 Are you in the market for a new job? Perhaps you are looking for the chance to develop a better career path in this ever-changing environment. 
Looking for a career change or a start of a career is a daunting task. We have all heard the "advice" before from "fake-it-till-you-make-it" to "tembak-only" to the ever-common "follow your heart". 
Unless your skills are highly sought after in the job market, finding a new employment can be unexpectedly frustrating and challenging. To increase your chances, a simple mindset change can make a big difference. 
In a global pandemic with ongoing uncertainties and changing job demands, the future of jobs will include higher organisation complexity, remote working arrangement, and virtual colleagues to multiple online interview platforms. 
Here are 10 things you should know when you are in the job market for a better career path. 
---
#1 Look for the "Click"

In an interview, the key factor is not how good you can talk but it is about how good you communicate and "click" with the interviewer. For employers, it is all about finding the right match between the individual, the organisation and the job. A helpful question to ask yourself: Am I able to fully understand what the employer needs a.k.a. what this role requires of me and vice versa? 
Remember: communication is a 2-way street and it can go beyond one's language skills. In your job search, you may come across interviews where you are not fluent in their main language or an interviewer who does not have the same command of the language that you speak. This is where the "click" and match matters where it goes beyond how well you talk. 
(Covid-19 bonus tip) As most of your communication will now be conducted online, learn to communicate and listen well. Structure your thoughts and words carefully, and listen! It takes two to tango. 
#2 Compare your career path vs. preferences 
Have you ever had to decide between a preference versus what is good for your career? For instance: "I prefer to work from home, but I perform my best with brainstorming and exchanging ideas with others", or: "I prefer that company that is closer to my home, but I cannot advance my career there." 
Will your career's advancement be compromised if your decisions are based just on your preferences? We think you'll know the answer to that one. 
#3 Personalize, personalize, personalize! Never use the same CV

A common error that the majority of job seekers do in Malaysia and all across the world is using the same CV for all the jobs they apply to. There is no one single CV that fits every application. Instead, customise your CV according to the position that you are applying for. Remember: your CV is a snapshot of your qualifications, achievements and yourself. You will want to match the relevant skills you have to the position you are applying for. 
Keep in mind to design and structure your CV well, so the hiring manager can identify your relevant skills in a quick glance. Check out our post on 3 hacks you can take to make your resume stand out and catch the recruiter's attention within 7 seconds.
#4 Don't treat your interview like an exam 

During an interview, we've seen lots of applicants coming in with lots of fear and anxiety – who are unconsciously treating the interview like an exam. Applicants act as though this is the test of life and build up a high amount of stress resulting in an uncomfortable ambience between them and the interviewer. This benefits neither parties. 
At your interview, you should treat it as a client meeting rather than an exam. 
Enter the interview with the perspective that YOU are the solution to a problem the interviewer is trying to fix. By doing so, it gives the interviewer a glimpse of how you might react with future clients and colleagues, rather than just trying hard to answer their questions. Therefore, be calm and treat it like a client meeting because you are the SOLUTION. 
#5 Ask the right questions

In order to treat your interview like a client meeting, you need to ask the right question. The interview is the best time to get answers regarding the job, what is required of you and what career pathways the company offers directly from a potential future superior. 
Know what is your preferred work arrangement whether it is from the office or from home, or a hybrid of both. Realising what the company's plans are to flatten the curve of this pandemic (and for your own safety) will have you make a better decision. 
If you are working with a recruitment agent, asking them these questions comes with the possible risk of changes and miscommunication with answers that your future superior may not be fully committed to. Hence, ask your future superior directly during the interview and you can follow those answers up later on in case there are changes when you go onboard.
#6 Be neutral & honest

When talking about yourself in a job interview, we noticed some candidates tend to overthink about how to present themselves. Some would minimize their credibility and achievements, with hopes to appear humble in front of the interview. We've also seen candidates who try to oversell themselves with the hope to impress the interviewer and get the job. 
But what matters most in an interview is nothing but the truth. At the end of the day, it is the responsibility of the interviewer to decide your eligibility and suitability for the role. It's best to remain neutral and truthful, so you can assist the interviewer in making the right decision for the company and yourself.
#7 Refuse a counter offer if it is not worth it

When you tender your resignation, it is obvious that you have the will to leave the company no matter what. But if you stay by accepting a counter offer from your superior, the tendency of them worrying about you leaving again soon (the average record is about 6 months to a year), will linger. 
Over time, your superior may redecide their choices to assign you an important task/ project, or if you should be entitled to the next increment after the counter offer increment. You may be better off in a new environment without these limits. 
#8 Consider your career growth

After successfully navigating through some interviews you now have to decide on the offers you have. When comparing the offers in your hands, apart from the general preferences, base your decision on factors that help you grow in the company and how well you can perform in that role. Which organisation will give you the most growth for a better career path? Which one can you see yourself performing your best in?
Other considerations are the values of the organisation as that will shape the experience you have in their workforce. Do they believe in their employees' career growth? What career pathways do they offer? 
These factors will indirectly bring you to a higher salary in the future, so don't just look at the small salary gap when comparing offers but through the lenses of your career's growth. 
#9 Aim for the goal, not just a confirmation

The probation and confirmation period in your new company will not be "scary" if you know what is expected of you e.g. KPIs, targets, SOPs, etc. 
So, instead of targeting for a confirmation, set your aim on the year-end performance bonus entitlements (if eligible), and without much else to it, you are on the right track to your confirmation. 
What if there is no target or KPI given? Well regardless of any KPIs, having a good work ethic such as being proactive, willing to listen, and results-driven are the key factors towards a confirmation. How can you find out about this? Simple: just like we mentioned earlier, ask your future superior in the interview on what attitudes or characters that they are looking for. Once you get your answer, follow it and you will sail through your probation period.
#10 Seek guidance from a third party

Finally, if you are not fully clear about the direction of your next career move, contact a recruitment consultant to guide you. Getting guidance from a professional will give you the proper parameters and support on your next move. A recruitment professional will know all the ins and outs of the job market, and with their wide experience, they can give you the best advice.  
Remember: there is no such thing as the best candidate or the best job opportunity in the market. But there is the best match of a candidate for the company and job opportunity. 
If the match does not come immediately, take the initiative to make yourself the best candidate for the role. Increase your skills, seek guidance from a recruitment agency and make little changes to your approach to a job search. 
At PentagonPlus, we know there is no one-size-fits-all solution and our consultants specialising in HR, IT, Finance, Engineering, Sales and Marketing are available to guide you to find your next dream job.