007 Seconds To Impress The Recruiter
June 18, 2021
Candidate Insights
Article Written By: Diong Wern Di, Senior Consultant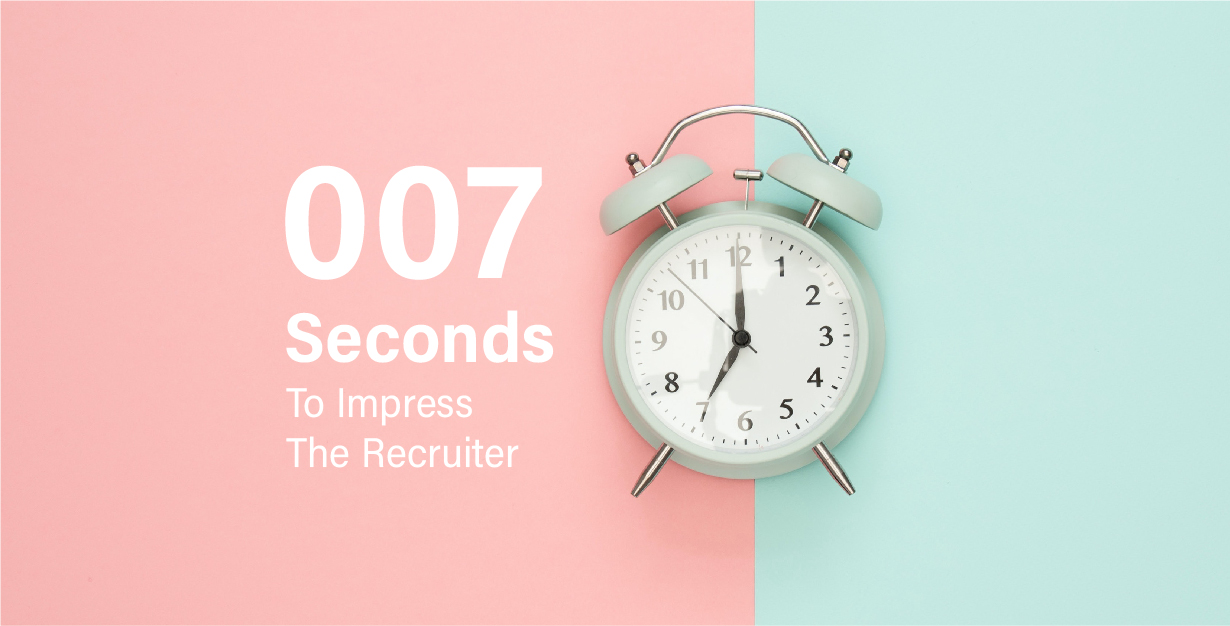 Your resume is a snapshot of your qualifications, achievements and yourself. It showcases who you are: your skills, background, relevant experiences and accolades. In the competitive job market, a solid resume is essential to be considered for a position within a company.
The daunting truth, however, is recruiters usually take only SEVEN seconds to screen through your resume. Think about this: when promoting a job position out there, the recruiter receives hundreds upon hundreds of resumes from individuals who believe they are the best fit for the job. Regardless of what is in there, the recruiter's time is limited and will only select the ones he or she deems to be worthwhile candidates.
That means seven seconds is all you have to make an impression on the recruiter to consider you for an interview. You may have the best qualifications or experiences, but if you do not catch their attention within those seven seconds, your chance to get to the job interview is slim.
So, what do you do now? You have to make yourself stand out from a sea of applicants from different backgrounds, age, and qualifications in that short time. You need your resume to advertise and demonstrate why YOU are the best fit for the role.
Here are 3 hacks you can take to make your resume stand out and catch the recruiter's attention within seconds:
#1 Sell the Sizzle, Not the Steak

Sell your achievement & skills and NOT your day to day responsibilities. This essentially means you should be selling the benefits of your product instead of the features, or selling people what they want in contrast to what they need.
When writing your resume, you want to show the recruiter why you are the best candidate for the role as directly and as succinctly as possible. You should not treat your resume like an essay where you elaborate and highlight each job experience with deep details. Instead, use bullet points – about two to three points would suffice – to highlight the role you had in previous job positions.
Show them the wins, achievements and accolades you received in the past to emphasize your qualifications. In that short time span, give the recruiter all the reasons they need to know that you will be an asset to their company.
A smart tip: quantify relevant achievements and skills. Use dollar amounts, timelines and percentages to illustrate the wins you had. Avoid giving unnecessary information. Remember: 7 seconds is all you have.
#2 Design it well, but do it right

Creating a visually pleasing yet professional resume can help stand you out from the crowd. Sometimes people skim over the best content just because the appearance did not catch their attention.
To go about this, use online resume templates from websites such as Canva that provide nicely designed templates that are free and easy to use. With the endless options of templates online, select ones that are clean, organised, simple and symmetrical. For the creative ones, use colours to highlight your experiences and skills, but be mindful to not overdo it. Express who you are professionally and match it with the job you are applying for. When designing your resume, approach it with the intention of making it easy for the recruiters to spot your achievements, not confuse them. Also, remember to match the design with the industry you are applying for. You should leave those quirky and intense designs for your portfolio when applying for a creative role.
Useful tip for those applying to large MNCs: Don't overdo the design of your resume because most MNCs use an applicant tracking system (ATS) in their recruitment process. An ATS is a system that helps organise job applications by screening resumes before it arrives at the recruiter's hands. So, if your design is too fancy, not in the right format or unrecognisable font, it may not be recognized by the ATS system. So avoid fancy formatting such as excessive use of tables, columns and less common fonts and make sure to use keywords to fit the context.
#3 Put a face to the story: Attach your photo to your resume
Putting a photo of yourself, the applicant, in a resume is more common and acceptable in Asia than it is in other countries. By doing so, it helps recruiters put a face to the experiences listed on paper; inadvertently creating a personal brand for themselves. When selecting a photo, choose one that is professional and friendly, and insert it onto the top left corner of your resume's front page. Be mindful to choose a photo that is relevant and appropriate too. If you are applying for a corporate role; look smart and professional in how you dress and set your hair. Attaching a photo to your resume helps the recruiter "know" you better and then with the support of your qualification, may just believe that you are the perfect fit.
---
Here's bonus tip #4 – Study the job well before starting your resume. We know times are hard now, but do note that not every job opening is right for you.

The great news is that there will be a job position that IS the right fit for you. You have to connect and match the basic requirements of the position to your qualifications and skills. Remember: your resume is a snapshot of you, so follow the hacks above and be yourself. Show them who you really are!
Making your resume stand out from the crowd can be a daunting task because recruiters receive a lot whenever they release a job opening. But with these three simple hacks, you can make yourself more distinct from the sea of applicants and increase your chance to get a job interview.
But what if there is someone who can guide you through the job searching process, whether it is prioritizing which jobs to apply for or how to make your resume stand out? Check out our previous blog on how working with a recruiter can help you find your dream job.

PentagonPlus has been in the recruitment service for more than 12 years and aims to connect the right people with the right jobs. Our recruiters provide the honest advice and valuable career guidance you will need for your success.
So, do not fret but instead have someone from PentagonPlus assist you through this process of making you a star candidate to get a spot for the interview, and on to the job interview. Just drop us an email at werndi@pentagonplus.com to get started!