What millennials want at work? A quick guide to attracting millennial talent
February 11, 2022
Employer Insights
Article Written By: Yuen Siu Mei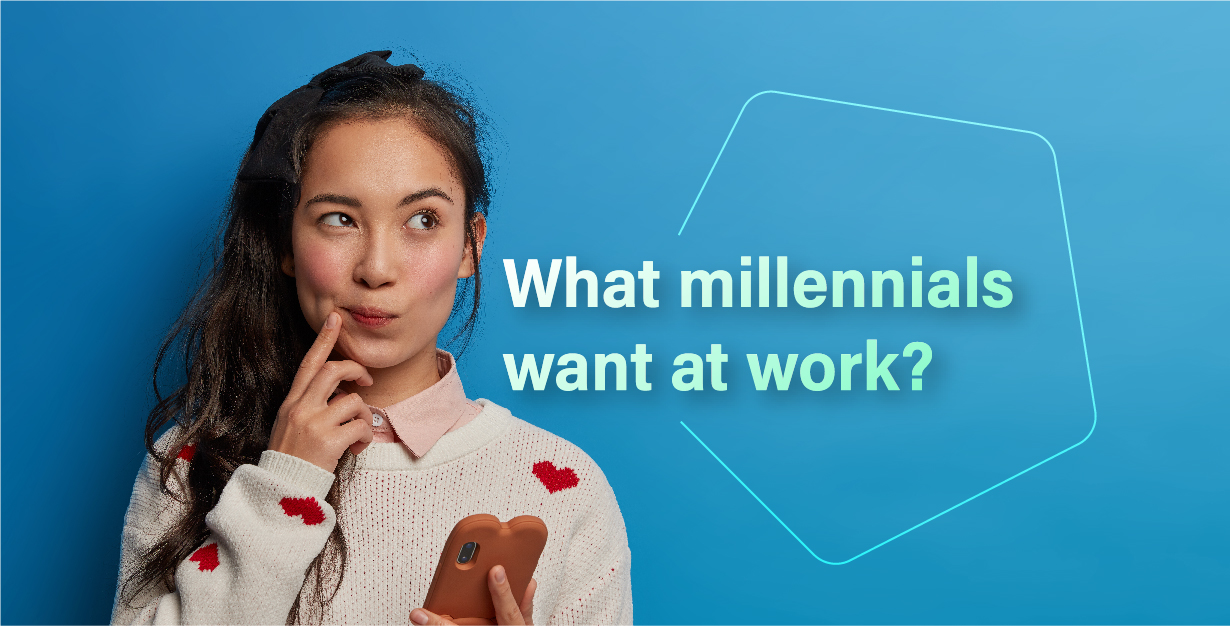 Whenever a new generation enters the workforce, they bring with them a new set of expectations. That applies to the millennials! Fact: it is not about pay or position anymore. Millennials these days are looking for more than just a job in their career.
Understanding what matters to millennials can help you to not only manage them but to thrive with them. Fortunately, it is not as difficult as you may think! We're not just talking about your average employee talent assessment, but if you're currently managing a team of millenials, you should check out this guide we wrote.
---
If you are in the stage of recruiting and attracting millennial talents with the right workforce readiness, you need to understand the millennial preferences in the workplace today.
We've got you covered with this article on 5 things millennials look for in a job:

1. Its purpose over paychecks
As cliché as this sounds, it is true! A job without purpose is not something millennials strive for but instead, they crave to join companies with a vision where they can be part of.
What does it mean for employers? This is where you sell the vision! Craft a meaningful career path that allows them to contribute to the bigger picture. Millennials at work seek to be empowered and they would be more motivated to perform if they can see how their work would add value to the project or company.
With this, employers must learn to see mistakes and failures as opportunities for growth and development for the millenials! This is where culture comes into play.
---

2. A supportive & transparent culture
It's no secret that culture plays a big role for many, but more so for millennials. Imagine a workplace with bosses and supervisors who lead by providing support, constructive feedback for growth, and care for their team's mental health – just like a career coach! These are what millennials want!
Millennials are no longer just looking for a boss, they seek a leader. They appreciate transparency and want to be included as part of the decision-making process. Especially since they grow up in a digital age where anything can be easily searched for online. Hence by practicing open and honest discussions at work, you'd be surprised that your millennial workers can become your strongest advocates.
---

3. Flexible working arrangements
The conventional 9-5 culture ain't going to make the cut anymore. If given a choice, millennials would pick a company that has flexible working arrangements over one that doesn't. As employers, we will need to adapt to this new norm by giving them the option to either work from home or at the office if we want to attract them.
While millennials value time with their family, friends and doing the things they enjoy, it does not mean that they are not dedicated to their job. As long as you've set clear goals and systems, this is a generation of workers that are capable of getting things done effectively regardless of whether they are in the office, car, or bedroom.
---

4. A digital workplace
Speaking of flexibility, it would only be made possible when your organization embraces digitization. Let's face it, most millennials grew up with technology and it is very much part of their lives. As the world becomes more digital, millennials would want to work in organizations that can automate and grow with the rapidly changing times of today.
Consider including technology to increase the efficiency of your organization. Explore the many new systems, apps, and programs created to increase productivity in a remote setting.
p/s – Google Drive is our best friend at PentagonPlus. It has helped our team to perform their tasks as efficiently as possible whether it is in the office or on the go. That's a win-win!
---

5. Traditional bonuses & increments? Not exactly…
While having bonuses and increments are a plus, millennials these days are looking for a more holistic benefit package. Consider benefits that promote social relationships with their colleagues such as social gatherings or activities to create and strengthen bonds and cultivate teamwork. What about a mentoring program? Where they can learn and be guided by a mentor is a benefit that is highly sought after.
---
Millennials seek opportunities that allow them to add value to their work and have a sense of purpose. They are quick and up-to-date with the latest and the newest but also want guidance and mentorship to maneuver life. By being a workplace that identifies these needs, you may find employing millennials into your workforce the best decision you can make for your organization's future.
Here at PentagonPlus, we know what it takes to attract and retain millennials. Don't worry if you are still confused about how to attract the millennial workforce because we can support you with just that! Simply contact us at siumei@pentagonplus.com to secure the talents of the future for your organization.