5 Job Search Strategies for Job Seekers in 2022
February 23, 2022
Candidate Insights
Article Written By: Andrea Prisha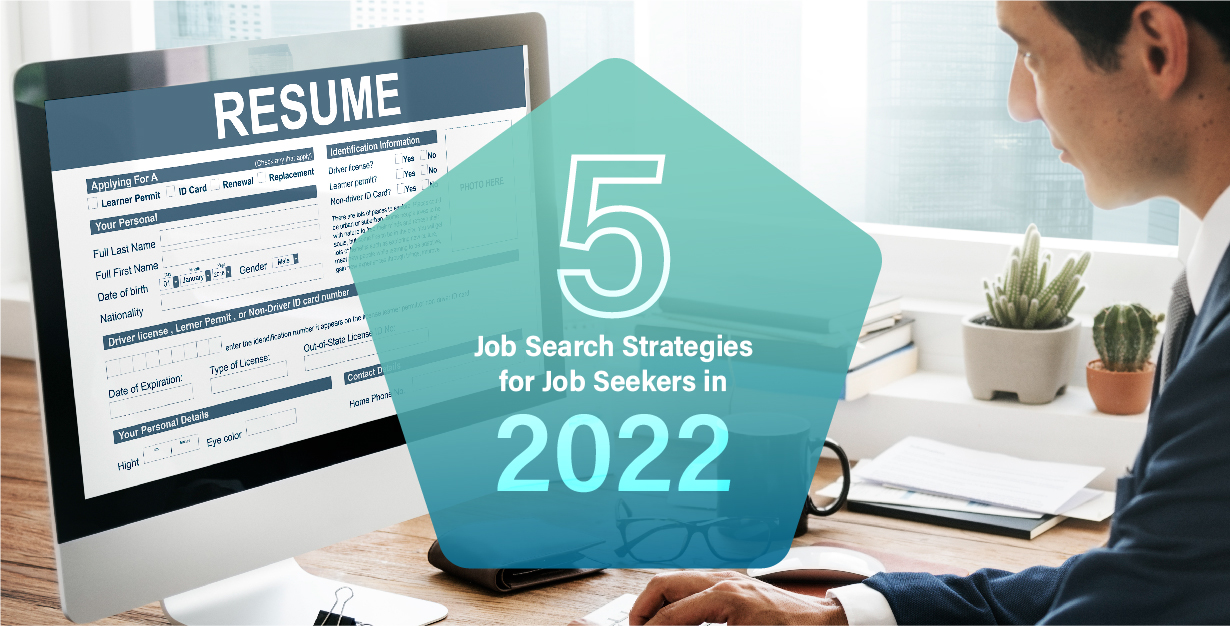 A new year calls for a fresh start. If you're reading this article, you're most likely in search of a fresh career opportunity. But the question remains: how or where can you find work these days? The pandemic has caused the job market to constantly shift, but it is also brimming with opportunities.
Whether you're considering a career jump or a career switch, the team at PentagonPlus has got you covered! Here are five career strategies that can help job seekers like you, find the right job in 2022.
---

First things first, do your research!
Set aside time daily to check job recruitment Malaysian boards, connect with recruiters and learn about what type of industries are hiring. Not seeing job opportunities in your field? Maybe it is time to broaden your search.
Instead of just searching for what you want, you should also look at what the market wants. If these companies are still hiring in a post-pandemic era, this is a green flag that they are sustainable and are likely to provide long-term career growth for you.
Can't seem to find these companies? Just head on over to the 'Hot Jobs' section on our website to search for companies that are actively recruiting!
Identify your transferable skills
Reflect on your current and/or past work experiences. Have you picked up any skill that is likely to be transferable? Employee talent assessment is especially important if you're planning to make a career switch to fit the demands of the post-pandemic era.
For example, if you're an engineer planning to switch to digital marketing; skills such as multitasking and problem-solving would be examples of transferable skills. During your job application, highlight the projects where you demonstrated these skills and explain how you would utilize them for the next job. If you have a portfolio, that would be even better.

Start investing in your personal brand
Do a quick Google search on yourself and see what you find. Are you impressed by the results? If not, what makes you think that your future employers will be impressed by your application? Essentially, having a personal brand answers the golden question: "Why should I hire you?"
Don't know how to start a personal brand? Pro tip: Create a LinkedIn account! LinkedIn is one of the most effective platforms to build your professional presence online. Make sure to update your profile with your latest experience and share your career story. Doing so would help make you more discoverable outside of your circle and beyond your resumé.
Network, network, network!
Did you know that networking is actually one of the most effective ways in landing a job? In fact, the odds of someone getting a job are considerably higher if someone within a company recommended them. What does that mean? You've guessed it. Network, network, network!
Physical meetups may be on hold for now, but you can always expand your network online. Join a LinkedIn group that fits your profession, get a talent coach or simply connect with industry experts through the comments on a post. You can also check with your local coworking spaces for networking groups to participate in or search up on Eventbrite. If you want to expand your network, you need to put yourself out there.
Workforce Readiness
If there's anything the pandemic taught us, it is to be ready for change. Whether you're considering switching careers or seeking better opportunities, you want to keep an open mind.
Speaking to recruiters is a great way to stay up-to-date about the market. There's no harm in getting industry insights that would help you make the right decision towards your next career move.. even if you're not actively looking. Don't be rash to close the door on potentially good opportunities. Who knows? Maybe those opportunities could even lead you directly to your dream job. You don't know what you haven't experienced.
---
The pandemic has changed the job-seeking game with its own set of challenges than before. But despite all the uncertainties, don't be discouraged in working towards your dream job. You won't get to your dream job without taking any risks.
Our team of career executive search consultancy firm are ready to support you in your career hunting journey. Just drop us an email at andrea.prisha@pentagonplus.com to get started and we'll assist you in finding the right job in 2022. At the end of the day, trying is more important than failing, at least you already know the outcome. Happy job hunting!