I Quit! 3 Things to Never Ever Say in Your Resignation Letter
July 26, 2021
Candidate Insights
Article Written By: Diong Wern Di, Senior Consultant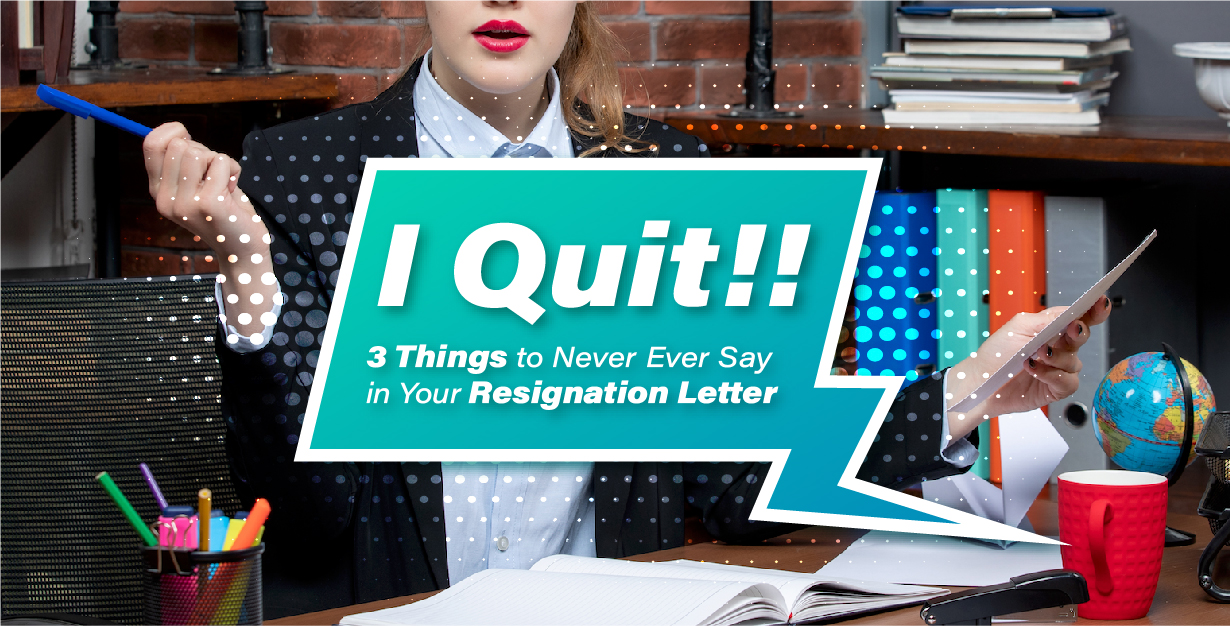 Congratulations! You finally got that new dream job with a more exciting job scope, bigger salary and better benefits. You are ready to move out from your current company, but there is still one thing left to do: which is to send in your resignation letter.
Writing a resignation letter is an essential official notification of your intention to end your employment status. And it is crucial to do it right! We know what you might be thinking:
"Does it matter? After all, I won't be working for the company anymore, right?"
In today's connected world, though your boss may not be the boss of you anymore but..
You might need a reference from your current boss to hand to your new employer,
You might work at the same company again down the road, or if you receive a counter-offer,
Words can spread quickly, especially in fields where everyone is well-connected!
---
So how do you ensure a smooth departure from your current company?
Let's start with three things you should NOT include in your resignation letter.
(You can thank us later)

#1 – Reasons you hated your job
No matter how unhappy you were with your (soon to be ex) company, your resignation letter is not the place for you to vent your stored up frustrations. Keep your letter short and straight to the point without beating around the bush. No need to write a lengthy account of your negative experiences while working there as you wouldn't want to project bitterness. Save that for the face-to-face exit interview with HR.
#2 – Your long list of achievements & sentiments
Your resignation letter is not the place to share all the goals and successes you accomplished at work. Neither is it a place for you to share all the memories you have built with your coworkers and boss. It is better to appreciate and thank your coworkers in person, not in your resignation letter.
#3 – Why your new job is better 
You may be thrilled about the new job opportunity and want to share your excitement with everyone. However, you do not have to include details about your new role and salary packages in your resignation letter. Even if you've been offered the best job in the world and it is everything you have ever wanted, you don't have to boast about it, especially not in your resignation letter.
---
Now that we know what we should not do,
here are 3 things you SHOULD include in your resignation letter.

#1 – Your intention to resign
When writing your resignation letter, you want to be clear on the purpose of your letter. Avoid being ambiguous, enigmatic or misleading. Instead, state the intention of the letter and start with the fact that you are leaving. Include important details like your notice period and your last day of work.
#2 – A neutral tone in writing
Keep your tone of writing as neutral as possible, without any negative emotions. Use professional language as your resignation letter is a formal document. As the old saying goes, "don't burn bridges" regardless of what has happened, so extend your gratitude for the employment you have had.
#3 – Any help you can offer to ease the transition
Every boss would appreciate a helping hand. Offer to help with a transition plan or to help update the job description so that it will be easier for your employer to find a replacement. If you are unsure on what or how you can help, you can mention a brief statement saying that you are available to assist with the transition in any way.
Pro-tip: Be sure to give ample time between submitting your resignation letter and the date you will be leaving. These periods are usually stated in the company handbook. The timeline differs from organisation to organisation, so it is best to check it before submission to make the transition easier for both parties.
---
Here are two resignation letter templates that you can use. Feel free to adjust it according to your experiences and company culture.
Example 1
Dear [Your Boss' Name],
Please accept my resignation from the position of [Position Title] at [Company Name] effective [dd-mm-yyyy]. My notice period is [Number of Months]. My last day will be on [dd-mm-yyyy].
Thank you so much for the opportunity to work here as [Position Title] for the past [number of years]. I'm grateful for the opportunities you have given me over the years. It's been a pleasure working with you and the rest of the team members.
I will do everything possible to wrap up my duties and complete what is expected of me. Please let me know if there is anything else I can do to help during this transition.
I wish you all the best and I hope to stay in touch in the future.
Sincerely,
[Your Name]
Example 2
Dear [Your Boss' Name],
I'm writing to inform you of my decision to resign from the position of [Position Title] at [Company Name]. I am giving [Number of Months] notice, effective today as required by my employment contract.
Thank you for all your guidance. I'm grateful for the opportunity to grow my experience and skills throughout my employment here, which I will take with me throughout my career. I've had a great time working with you and everyone in this team.
Please do not hesitate to let me know if there is anything I can do to help ease this transition. I'm happy to assist in the search for my replacement or train my replacement during this period.
I wish you all the best and I'm looking forward to hearing from you regarding my last day of employment.
Sincere,
[Your Name]
---
When writing your resignation letter, the rule of thumb is to keep it brief and clear. Avoid complicating the letter or the need to share more. Irrespective of the experience you have had there, be grateful for the journey and experiences you had there as you walk into your new season.